Blwyddyn Newydd Dda or Happy New Year  to all.
My last post detailed the preparations for my trip to Wellington  NZ to take part in a multiplayer game re-fight of Borodino in November.  I use the word Re-fight in its loosest definition as this was a war game using 28mm  Napoleonic figures and none of us got hurt!
The table being set up

The game was played using Black Powder Version 2 rules and using the historical orders of battle scaled down by the principal organizers John  Hutton and Paul Weekly who themselves took on the roles of Napoleon and Kutusov respectively. Paul to his credit was also responsible for producing the stunning terrain used on the central table. Paul crafted the central table which was 24 feet wide and 6 feet in depth and reserves were deployed on 2 additional tables.
The French Reserve Table

Russian initial deployment, note the adequate water supply

A Grand Battery is deployed

Does the Bear shit in the woods? Russian Jaeger await

To the right of the Grand Redoubt
A Formidable Russian formation to the right of the Redoubt
Early contact
Somehow these have to get over there….
And this lot as well

And over this ditch and into the teeth of those

Russian Commanders in their unconventional uniforms

Its extraordinarily difficult to give an account of such an huge game particularly when it seems to take an age to walk to the other table flank and when you are preoccupied or distracted by your lack of familiarity with the rules. To this end myself and Jonathan Forsey who played the role of Junot and Montbrun commanding the IV Corps and II Cavalry Corps found ourselves on the French right flank . Jonathan was very kind and helpful with advice and assistance as we both trudged forward through the woods before the village of Utitza on the French right flank. Our role was to try and engage and draw off as many Russian reserves from the Russian centre. I think the main French attack was to be delivered  through the to the right of centre by Ney and Davout's Corps rather than towards the Grand redoubt.
The Russian left

Our task on the right was always going to be a difficult one because facing us was the redoubtable Terry Swain who is a cunning and experienced Napoleonic gamer well versed in the nuances of the Black Powder rule set.
And we thought we might just have to run off a few cossacks……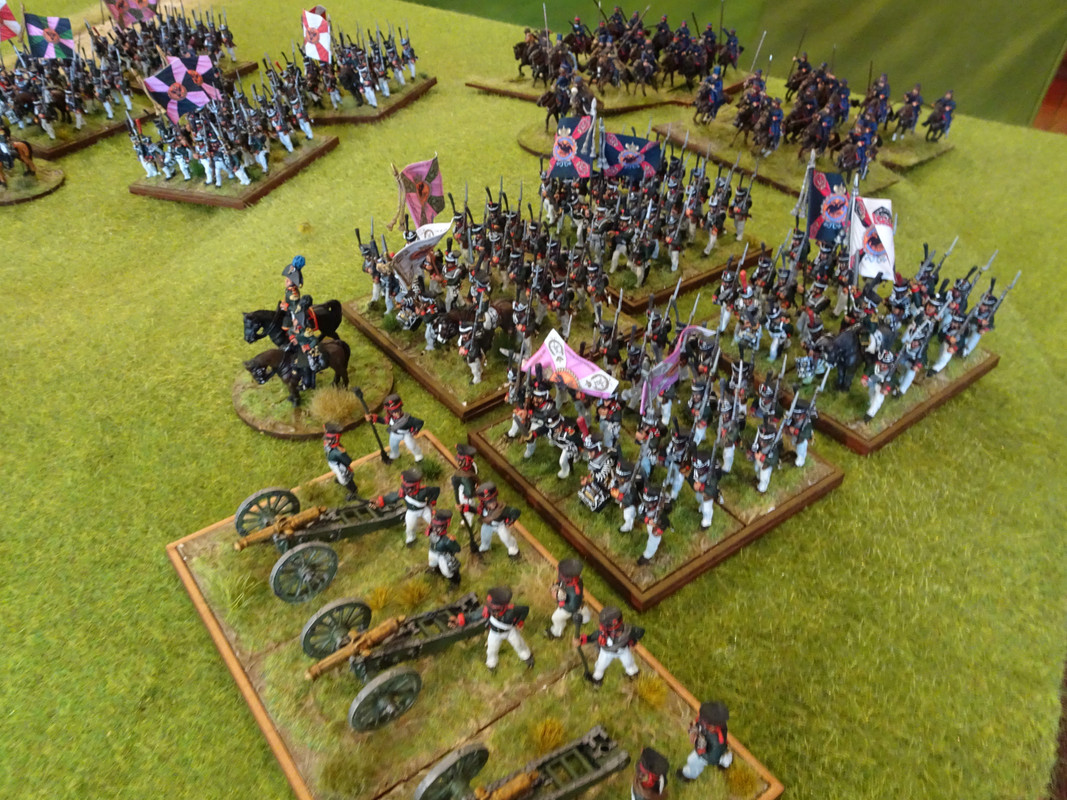 And maybe a few sweaty peasants….

There are a fair few Sweaty Peasants here as well!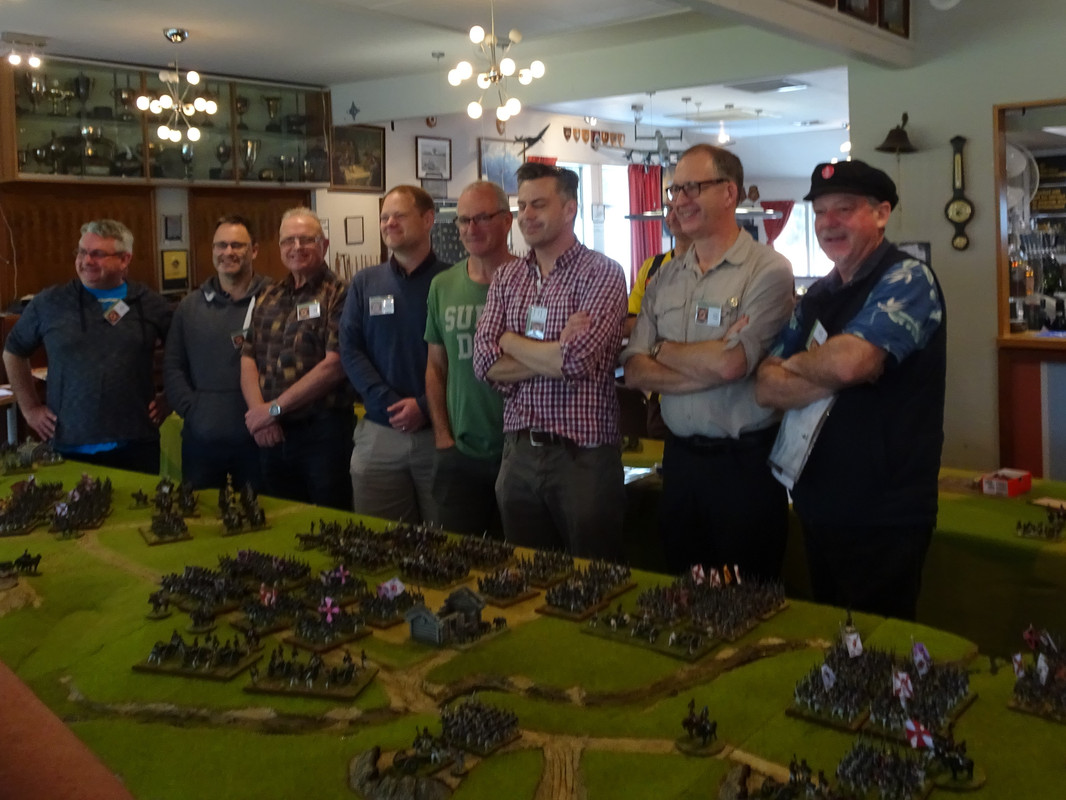 As compared to the new French aristocracy
Ooh, look he's got a gong! Please note the authenticity of his uniform in contrast to his Russian counterpart

The French advance in the centre

… and over by here

.. and over by there….

A Wargamers' crotch view from behind the Russian lines

At this point I ought to point out that Terry was very a gracious and helpful opponent who showed great patience in dealing with my ineptness and inexperience with the rules and my many mistakes and queries. Terry has written up his own completely fictitious account of the wargame lesson/hiding that he gave me here https://terrysgaragegaming.wordpress.com/
Beware this account though as here am I thinking that it was the French that only had the ability to "lie like a bulletin"! The only good thing about his account is that the day 2 picture of the French players shows that there is no doubt that I am by far the most handsome of them!
Infantry battalions were 24 figures strong and cavalry regiments 12 strong &  a battery was represented by 2 model guns and 19 players took part. I took the role of Prince Poniatowski Commanding the French V corps.
I had the following troops at my disposal
16th Division: 6 line battalions and 1 6pdr Foot Battery
18th Division: 3 Line Battalions and 1 6pdr Foot Battery
V Corps Cavalry and artillery reserve: Polish Lancer and Hussar Regiment and 1 Horse battery
---
The action somewhere else

Oops! Near the redoubt – and I thought I was facing tough odds!

Something else going on somewhere else

and here as well it seems

Oops!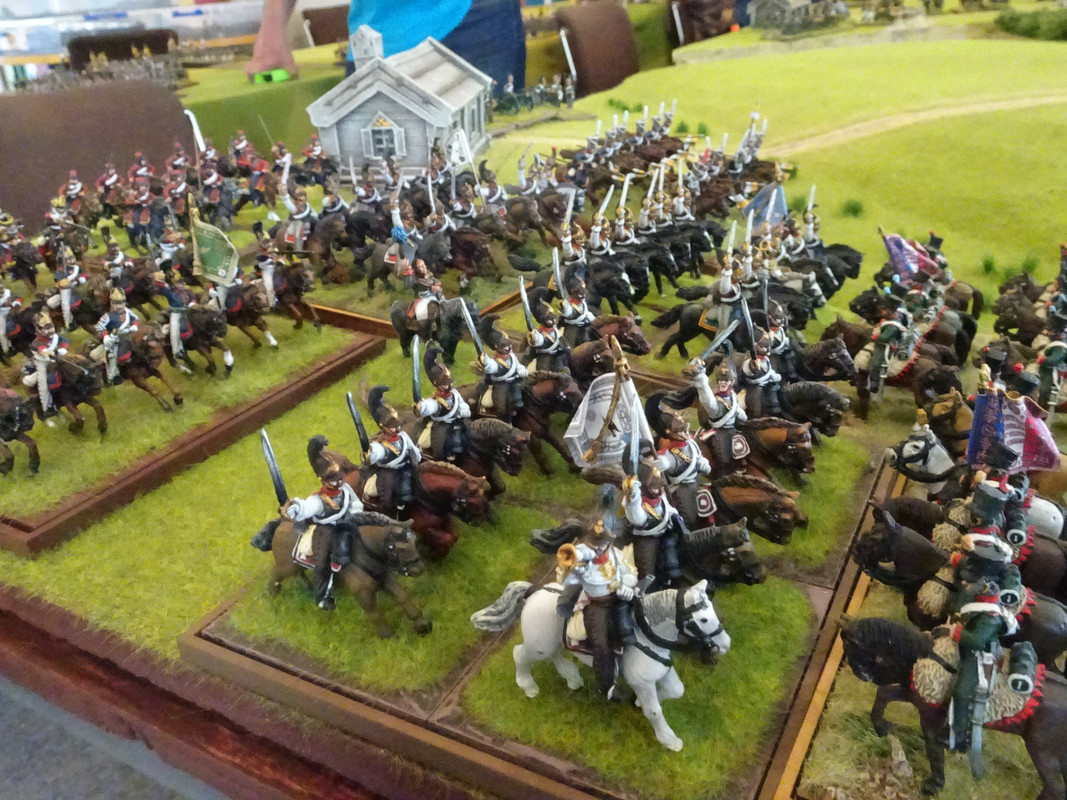 I think this is where the main French attack is being driven through

If you go down to the woods today…..
Those are my figures on the other flank, the hussars are newly painted, therefore they are bound to rout!

On the other side of the galaxy err table a long way away

More action in the centre

Those Hussars? I told you so!

But we've taken something somewhere

The Polish contingent made its appearance through the woods on turn 3 to find that we were not just facing the Russian Militia but also Russian Grenadier Division that had been deployed away from its historical position the centre ( The Russians claim that dice were involved in deciding this was placed!)
The Polish begin to creep out of the woods in skirmish order
While the cavalry hurry to their support down the single road from the reserve table

Slowly slowly in skirmish order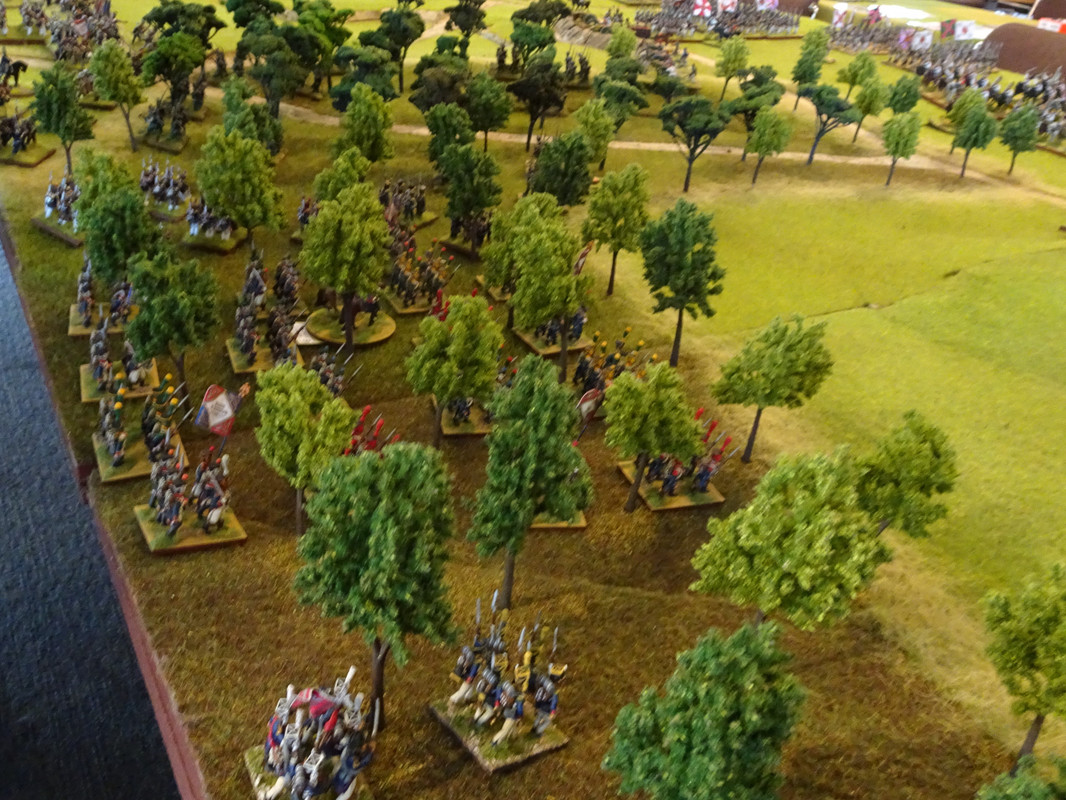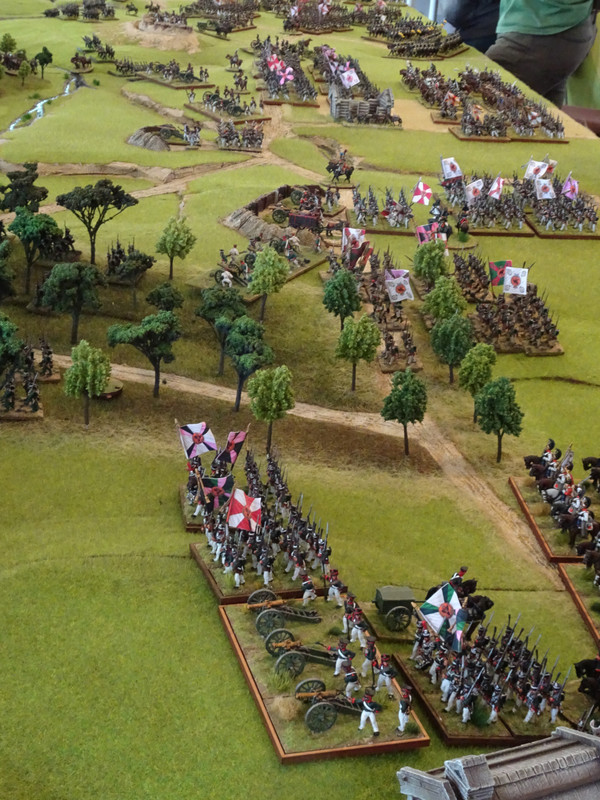 Where did those Russian Donkey Wallopers come from?
In essence my plan was to get clear of  the woods as quickly as possible whilst keeping some semblance of order so allowing Junot and Montbrun to deploy behind me but clearing the trees and making headway against that solid force with all those nasty guns was not easy.
The Polish cavalry clear the woods and the artillery deploys

Look at the precision in those lines eh?

Is that a worried look I see?
Nah just a good scout to see how many more bloody Russians reinforcements can be fitted on my end of the table

As the Poles advance with blurring speed

Whilst Junot gets going

You know I said I was marching to the sound of the guns? Well I think I've found them..

We are definitely going forward Junot and me

Yes we are – did junot that? (Groan)

Yes, going forward, at least for now…..
Call me bitter if you like, but see that empty green bit in the table edge – more Russians are going to appear there!

On the whole we did pretty well for the most part of the first gaming day as more an more Russians seemed to appear. Writing this some 2 months after the game means that my memory is a little hazy ( it is not true that I am still traumatised by the hiding I was given and thus taken me this long to admit to and produce an account of it! ). I vaguely recall thinking that we were just about to get the upper hand and get at the infantry after seeing off a couple of Russian batteries when disaster struck and I think I lost the best part of the 18th division.
Its up close and personal now…

By Day two all I remember is that Junot played a bigger role in pressing the attack and though did well initially against some jaeger, just could not make headway as by this time a division of the bloody Russian Guard had appeared along with more donkey wallopers wearing Cuirasses.
Maybe this is where the rot was about to set in…

But maybe not, we may have seen them off but look there are more…

The Russian guns have gone at last, now we can go forward..

Cavalry should just bounce off infantry in square? – yeah right

Oops – where did they go?

The memory is hazy but I recall one of my battalions had only taken 3 casualties and was in square – safe enough I thought (under any other set of rules) – until it was apparent that this was a shaken square and got ridden over and broken by Russian Cuirassiers in the glorious "follow me" charge that Terry alluded to on his blog. That was the end of it as one unit after another of my Polish battalions evaporated and the few remainder legged it back to the safety of the woods. Meanwhile Jonathan battled in vain trying to see off the Russian Guard that would save casualties on anything but a one!
Guess who? I told you

Its not looking too flash on the other flank either

Elsewhere I gather that the Russians had pushed back the French left flank and their cavalry was beginning to appear on the French reserve table, a French attack in the centre had been repulsed – Napoleon was blaming somebody and somebody was blaming Napoleon!
Look we are winning something somewhere

There's little progress in the centre

Not even Russell's Tommy Cooper impersonation can change that…

Meanwhile Ney and Davout had some limited success against the Russian left centre but it was obvious that this was an heavy defeat and were were never going to see the spires of Moscow!
This is about the furthest the French ever got…
Hope you enjoy some of the many pictures of a massive game that was played in great spirit and was great fun. The fact that I have reservations about the BP rules does not detract from the fact that they allowed a large multiplayer game with around 100 infantry battalions and more than 30 cavalry regiments on each side to be played to a conclusion and provided undoubted entertainment for all involved. It also looks like we'll be swapping sides and doing it again some time in 2021. I look forward to the opportunity.
It goes without saying though that I feel fortunate and privileged to have been able to do this in NZ, in the year that this has been, when the bulk of my fellow gamers overseas remain isolated from their mates
Best wishes to all and stay safe